You have a dream, an ambition, a burning desire...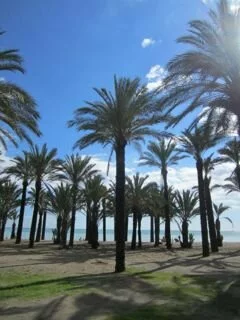 ...it wakes up a part of you that nothing else does. It taps into the essence of who you are and what you were born to do. It's something that so important to you that you can't stop thinking about it.
But thinking isn't enough – it's actions that matter, even one small one.
So what's stopping you?
The risks? The fear of failure? The fear of success? Are you up to it? Can you achieve it?
What will other people think - if you achieve it, or if you don't...? Especially when you talk about it so often...
What will it feel like if, in 20 years' time, you look back and think 'why the f**k didn't I give it a shot?'
Your path in life shapes who you are...
"A path is only a path, and there is no affront, to oneself or to others, in dropping it if that is what your heart tells you . . . Look at every path closely and deliberately. Try it as many times as you think necessary. Then ask yourself alone, one question...  Does this path have a heart? If it does, the path is good; if it doesn't it is of no use."  ~ Carlos Castaneda
Are you creating and choosing your own path or following someone else's?
Who or what is determining that path? Is it influence (your parents, your teachers, what's perceived to be cool, for example) or default - reacting rather than taking control?
What is it about that dream that gets your juices flowing, energises you and excites you into action?
Knowing why that's so important to you makes a key difference.
"It's what I was born to do."
"When I doing it, I'm in the zone."
"It's the only thing that makes me feel alive."
Is your thinking the only barrier?
Knowing your direction is the key...
I offer an exciting coaching programme, a series of conversations that will unlock your true potential and assist you to achieve your dreams.
Working with you on the issues you care about the most, I challenge you in a way that unlocks your aspirations, releases the blocks, frees up your thinking and your potential and supports you to take the action that will move you forward. It's not an easy ride but it's so rewarding when you start to move in the direction you want to go, that you want to stay on that path no matter what it takes.
You will explore who you are, what makes you unique and extraordinary, build on and strengthen your inner power and potential.
Achieve it in a way that fits with who you are. That doesn't mean to say that you won't be at your edges, but you'll decide when you're ready to take action and what action you'll take. You'll use your intuition, your insights, your inner compass.  And it will be fun!
When you spend time with me your life gets better.
You recognise your genuine wants and are motivated to do what it takes to have them.
You begin to unlock your potential.
Your experience of life changes for the better – permanently.
You feel more in touch with who you are and what you're capable of.
Something has come forward that you didn't realise was there.
And I am there to support you on your journey.
What Hilary is offering here is truly exceptional. I have worked with many coaches, professionals, teachers, leaders and students and nothing has transformed my life journey quite like my coaching experience with Hilary. She will listen carefully, ask open questions and let you talk. She will assist you in making plans to help you realise your dreams and will support you in whatever way you like through what may be a fairly difficult transitional process of change.

It was Hilary I turned to for a last minute conversation when I had to make a decision about resigning from a job. She helped me see that, at that time, the decision was not correct - this gave me the confidence to hand in my resignation letter a few months later when I felt that the time was right. She has become a close friend, guide and support and has held my hand (when necessary) through the most radical period of change I have ever experienced. I'm extremely grateful for the work she has helped me make manifest in the world.    Chris, London
Get started
Contact me to book a conversation which could change your life and, more importantly, get you taking the first steps on that path to what you desire...